How to choose and understand your axe
An article on how to recognize the shape and strengths of an axe for its intended use.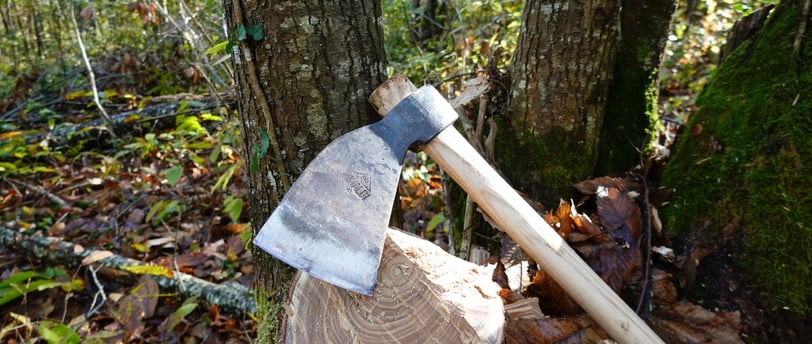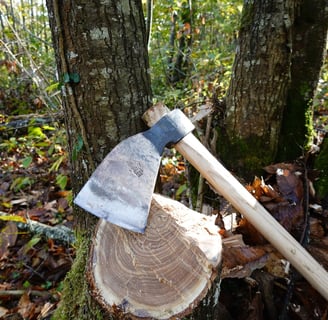 Please note that what follows in this article comes from my personal experience and research, and is not a universal truth for everyone who uses axes. I'm not a carpenter, craftsman or tree pruner. I use the axe to make all my firewood, from felling to splitting and bucking logs to length. I also use it to build small structures, shelters and benches, to clear a road blocked by a fallen tree, to clear land, maintain hedges, polarding, coppicing hazel and chestnut trees, hewing beams...
The Axe
For thousands of years, the axe has been an essential tool for mankind, used to make buildings, objects and fuel for heating and cooking.
The axe cuts by throwing the tool at the wood. It is therefore a thrown tool, unlike a saw, which is a laid tool. Thrown tools are more difficult to handle, but are often simpler (in terms of production and maintenance) and more versatile.
A quick aside: that's why the tools offered in our store are almost all "launched" tools. But an even more important reason for me is that these are tools that work with our own energy and gravity. Over time, we learn to use gravity to reduce effort and find real pleasure in adopting the right, precise gesture.
The axe can be used to fell a tree of any size, delimb it, peel it, turn it into a beam or cut it into sections. It can also be used to split or carve wood. An axe can be used to rough out a piece of carpentry, or a spoon. A saw cannot achieve this versatility, and is often limited by its shape and teeth to very specific tasks.
As mankind and tools have evolved, axes have taken on different shapes and weights. There are "peasant" axes and "craft" axes (carpentry, cooperage, clog-making, carpentry...). Initially, their shapes evolved through collaboration between forges and farmers and craftsmen at a very regional level.
Over time, economic theories gradually imposed greater efficiency on work, to make it profitable and competitive. Tools were specialized to make them more efficient. Gradually, felling axes, splitting axes, limbing axes, chopping axes and hewing axes began to appear, making them more efficient for specific tasks, but losing the versatility of the "peasant" axe.
A very interesting example is the evolution of axe shapes across the Atlantic, in Canada and the United States. From the 16th to the 18th century, the American colonies were mainly equipped with axes imported from Europe, particularly France. These were the famous "Trade Axes". One, the "French Trade Axe", was favored by the Native Americans and became the "Tomahawk", while another form, the "Biscayne", forged in the French Pays-Basques, gave rise to the modern American axe.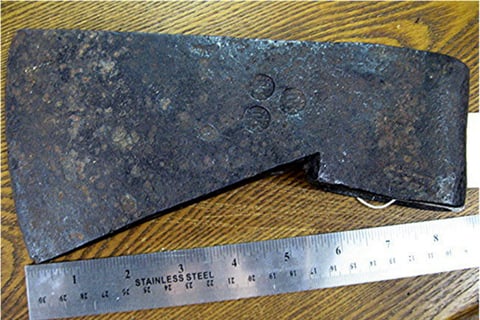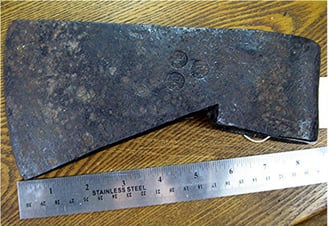 Image 1: "French Trade Axe" dated 1650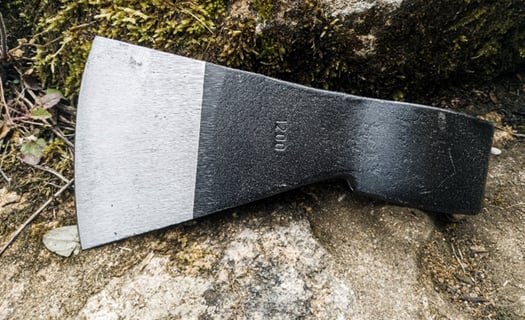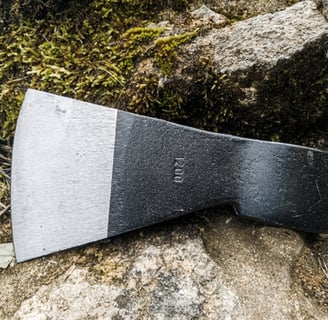 Axes from France, Italy, Spain and Portugal were particularly useful for pioneers, who had few resources and often worked in isolation.
For ease of reference, let's call the traditional axes from France, Italy, Spain and Portugal "Latin" axes.
A story about handles
For our pioneers, these axes serve their purpose and have the advantage of being highly versatile and, above all, resilient: A tool is functional by virtue of its handle, and the handle of a Latin axe can easily be replaced by a branch of hardwood, whether green or dry. This is possible because the eye of a Latin axe is conical, allowing the handle to be jammed by simple friction. The branch can therefore be shaped to the size and shape of your choice, then slipped over the top of the axe until it is wedged by striking its upper end into the axe's eye. This method of fitting not only makes it easy to replace the handle, but also to have several handles for the same axe: for example, a short one for carving, and a long one for work in the forest.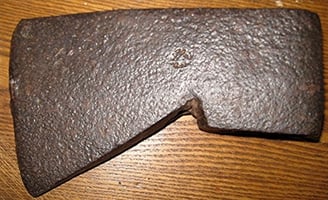 Image 3 : Biscayne Axe dated 1580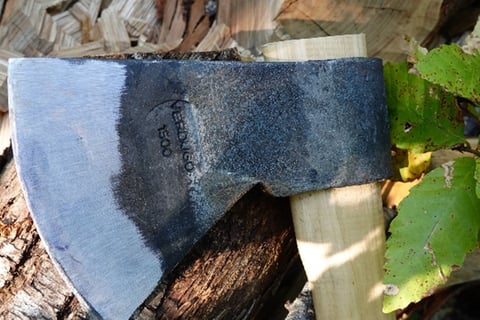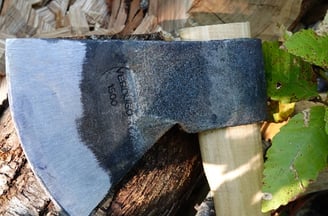 Axes that we'll call "Germanic" (in the sense of countries whose language has Germanic roots: Germany, Great Britain, Scandinavia), are fitted in a completely different way. Unlike Latin axes, the handle is inserted through the bottom of the eye, then secured by a wedge inserted through the top of the eye. This method of fitting allows much greater freedom in the making of the handle, as on a Latin axe, the shape of the handle is limited in thickness by the dimensions of the axe's eye, which must be respected in order to slip the handle through its entire length.
The Germanic inlay allows us to create a knob with very curved shapes, which are theoretically more effective and comfortable. (I write "theoretically" because it depends on each person's experience).
Also, the Germanic handle is theoretically stronger and more resistant over time. This is not my personal experience, but I may simply have had bad luck with the handles of my first Scandinavian axes, whose handles all broke off.
There are two disadvantages to this type of fitting:
The handle cannot be interchanged with another, as the assembled handle is fixed and cannot be removed without destroying it.

The shape of the eye is much longer and narrower than on Latin axes, making it impossible to replace the handle with a branch. You therefore need access to perfectly seasoned quartered wood from which the heart has been removed. This means storing wood in advance from knot-free trunks, whereas a Latin handle can be made from a branch of green wood.

For beginners :

Green wood is still fresh and full of sap. It's easy to work with, but over time it will shrink in thickness. This is important, because if we were to use green wood to make a Germanic axe handle, it would fall off the axe after a few days/weeks after shrinking. On a Latin axe, the handle would wriggle into the eye of the axe, and simply have to be knocked back into place

Quarter-timber is a piece of wood obtained by splitting a trunk.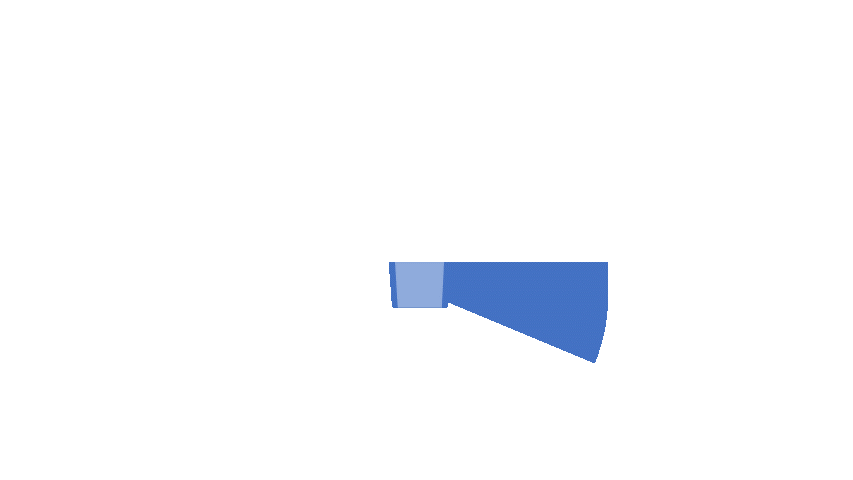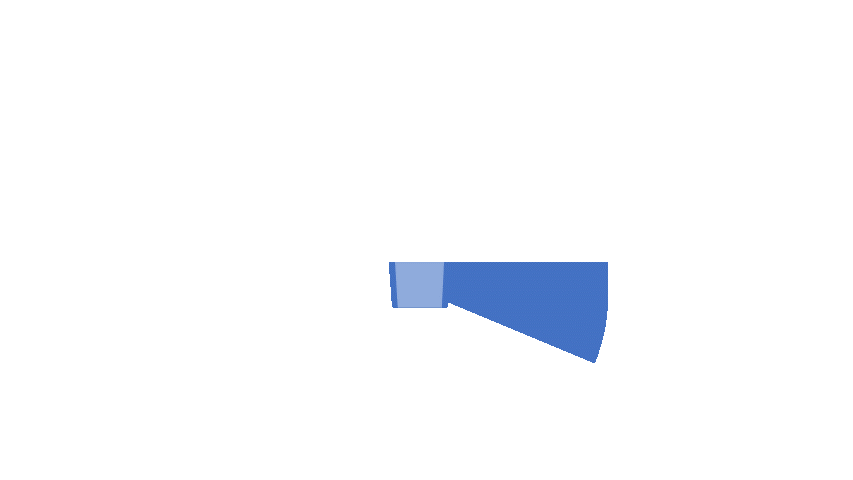 To find out more about Latin axe handle fitting, watch this video:
Animation 1: The principle of Latin axe fitting. The conical eye enables you to strike the handle, which is then held in place by friction.
Back to our Americans. Before independence, copies of the "French Trade Axe" began to appear, ordered by the Hudson Bay Company to equip trappers and trade with Native Americans, who had a preference for this axe pattern. After American independence, Latin axes had all but disappeared from circulation, to be replaced by locally forged patterns, more economical than imported axes.
But it was with American industrialization that the American type of axe appeared, a mixture of the shapes brought by the settlers, and an innovation: the poll, a surplus of steel left on the neck of the axe to give it a special balance.
It's time to insert a small diagram so that we can agree on the nomenclature: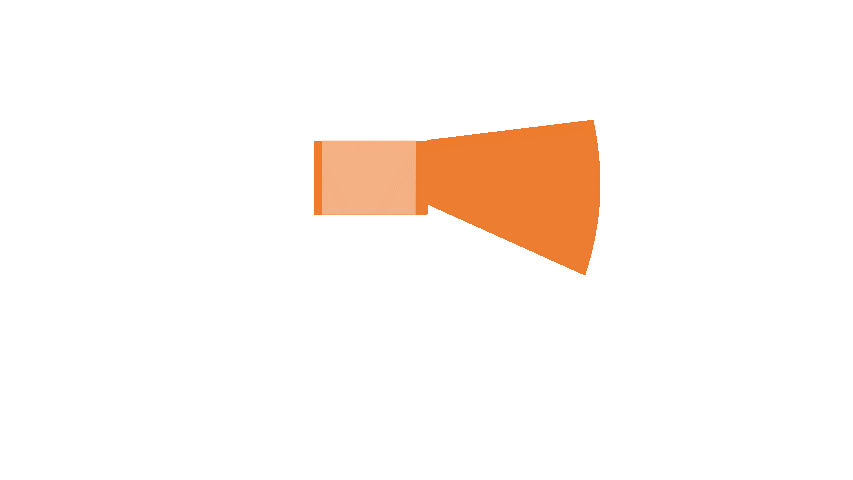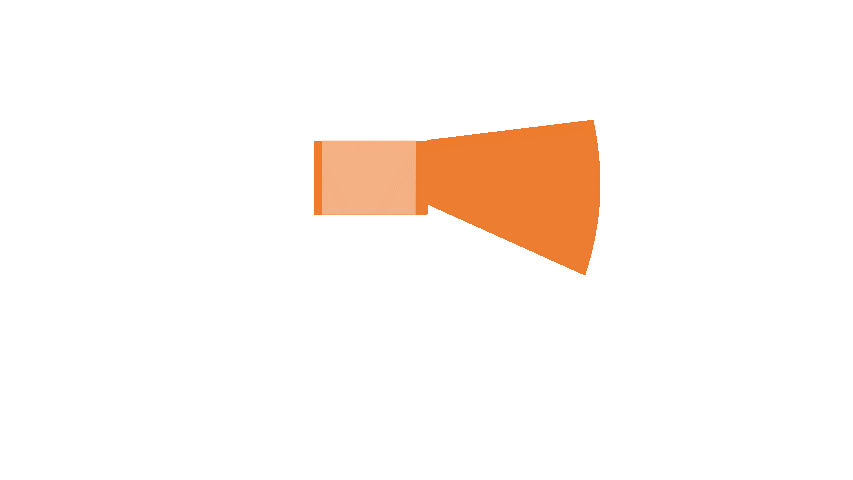 Animation 2: The principle of Germanic axe handle fitting.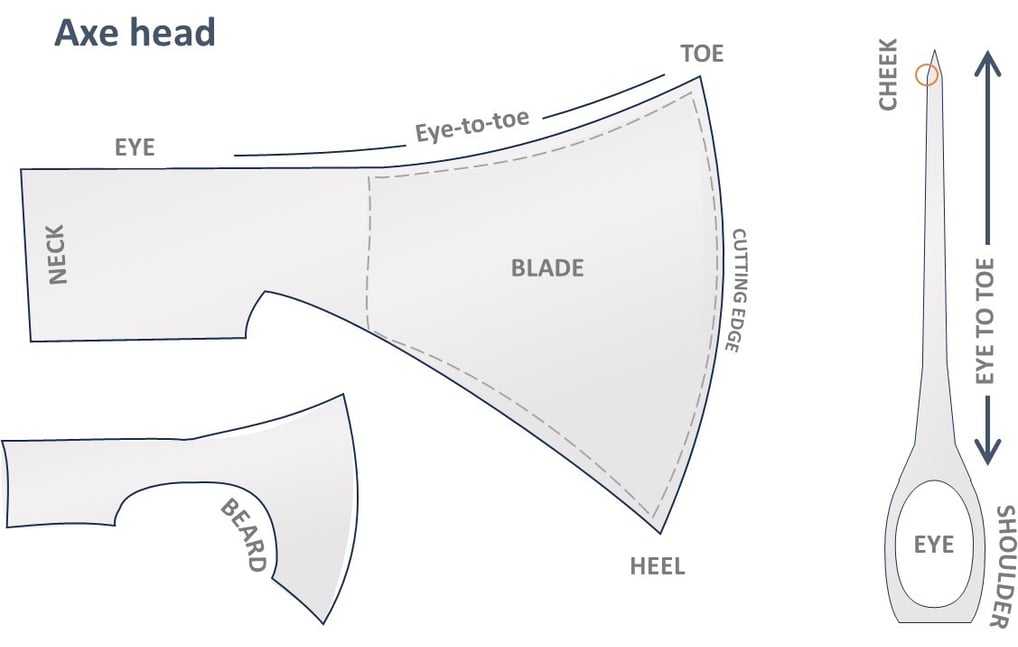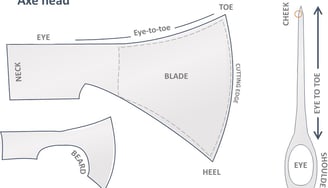 To cut a long story short, the American axe is a Biscayne handled by a German and forged from a block of steel by an American drop hammer. The U.S. axe is a product of the industrial revolution, which made steel and machinery more accessible, and changed forging techniques: whereas old-world axes were forged from iron bent to form the eye, then hot-welded with a piece of steel for the cutting edge, U.S. axes were forged from a single block of steel, hot-drilled to release their famous "poll".
The purpose of the poll is to balance the axe's weight on either side of the handle axis. In this way, when the axe is held horizontally, as if to strike a blow perpendicular to the trunk, the American axe remains almost in place, whereas a Latin axe would plunge to strike the foot of the tree, the trajectory for which it was originally intended.


The American axe, although less versatile, is therefore more comfortable and more efficient than traditional Latin axes... provided it's used the American way! In fact, Americans have so much space and resources on their territory that they've developed the bad habit of making their felling notches at the crotch. This has the advantage of not bending the lumberjack, but also the disadvantage of wasting wood, which would have been viewed very unfavorably by lumberjacks and farmers on the old continent.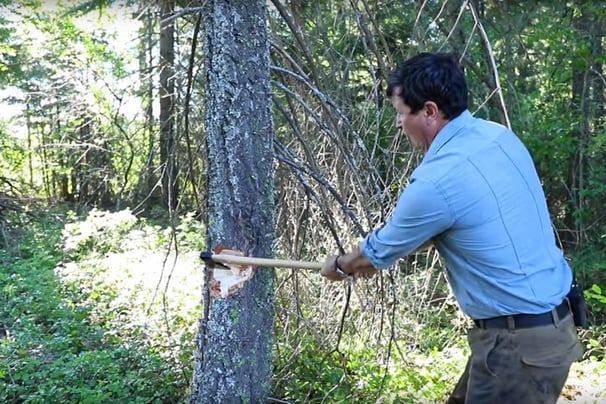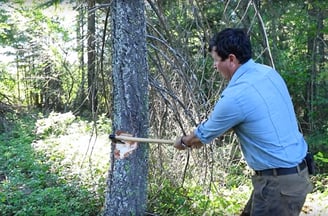 At the time of the American industrial boom, on the other side of the Atlantic, the primary forest had not been around for centuries, and the forests were reserved for the State and large landowners (the bourgeoisie), who were exploited by day laborers who were sometimes lumberjacks, sometimes ploughmen, haymakers and harvesters. Trees are felled at ground level with axes known as cognées, another development linked to industrialization and the quest for profitability. These cognées are very long, heavy and narrow-edged, enabling the operator to work vertically to trim the bottom of the trunk, then to dig into the wood on either side until the tree falls. Later, these cognées were used to complement the crosscut saw, deemed even more profitable for felling by operators, although more tiring for the workers.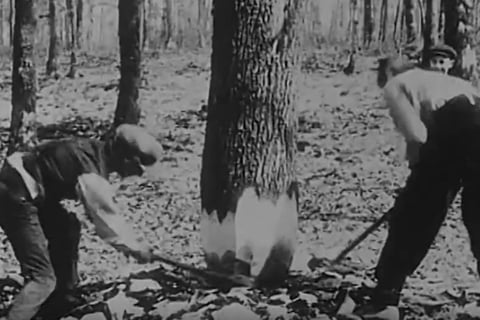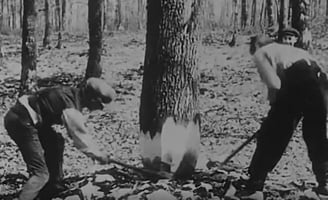 Image 6: Two Belgian lumberjacks chop down an oak tree with "cognées" axes in 1927.
Meanwhile, on small farms, traditional axes continue to be used. Sometimes they're used for felling coniferous trees destined for pit-sawing, sometimes they're used for hewing a few beams on site. They are used to harvest poles in coppices and pollards, to cut and split firewood, and to rough out everyday objects... It's this rural use that still allows us today to find manufacturers such as Rinaldi who still forge these ancestral models.
It is for this love of ancestral tools, the basis of peasant subsistence, that the Frontière exists. If we no longer promote the use of these tools, they will no longer be forged and will disappear, just as the hope of thousands of people to regain the use of their own energy and a simpler, more resilient way of life will disappear.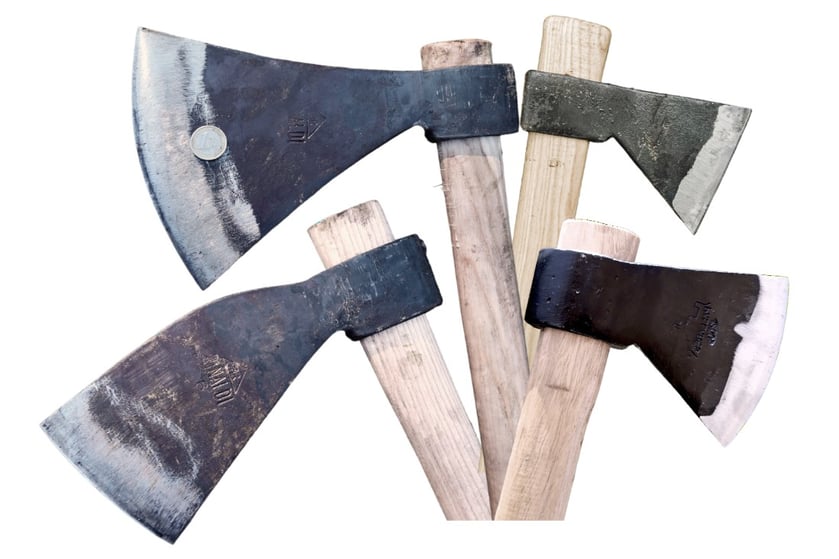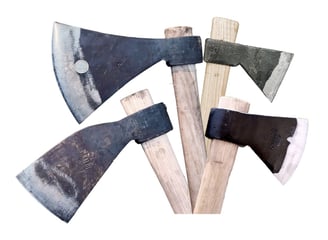 Introducing the store's patterns
Why so many models? On the one hand, for conservation reasons, to show manufacturers that they must continue to produce non-standardized axes, but above all to offer a diversity of choice, so that everyone can find the axe that suits them.
The axes we offer all have very different geometries, which gives each one its strong points. This allows us to appreciate the diversity of farming tools, which would put the shelves of DIY superstores to shame, but above all to understand that no tool is better than another, and that it would be a lie to claim that one model surpasses all the others.
To choose an axe, we first need to define its use. Are we going to use it in a forest to fell and limb large trees? Or to maintain a coppice or pollards? A bit of everything? Mainly for hewing, or more for firewood? Will we work mainly with dry or green wood?
That's a lot of questions. What if we learned to distinguish the strengths of an axe's geometry instead?
There are (in my opinion) 8 key variables in axe geometry:
Eye to toe length

Cutting edge width

The more or less rounded shape of the cutting edge

Angle of cutting edge in relation to handle

Blade thickness

Toe height

Weight
Eye to toe length
The longer this distance, the greater the leverage of the blade (leverage on the handle when the axe is hold horizontaly, and on the fibers when it strikes into the wood). The longer the eye-to-toe distance, the more practical it is to cut a notch or square a large section. A shorter eye-to-toe increases fiber splitting capacity thanks to a shorter distance between the cutting edge and the shoulders of the axe = less distance to travel to reach the axe's maximum thickness. A shorter eye-to-toe facilitates the axe's precision trajectory when thrown on a horizontal plane.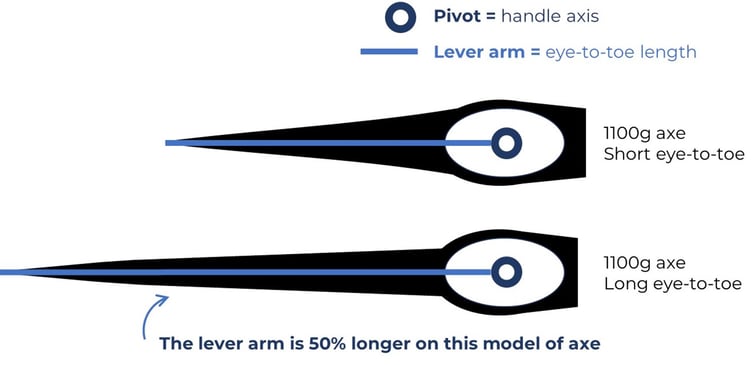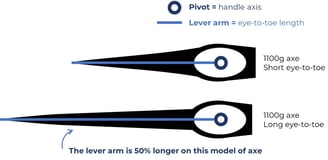 The width of its cutting edge
The wider the cutting edge, the more material it carries away. Very practical for limbing and hewing. The narrower the cutting edge, the more penetrating it is, as the energy is concentrated on a smaller surface. The wider the cutting edge, the bulkier it is, which can be a problem in dense coppice, for example. The narrower the cutting edge, the greater the precision required for effective axe cutting.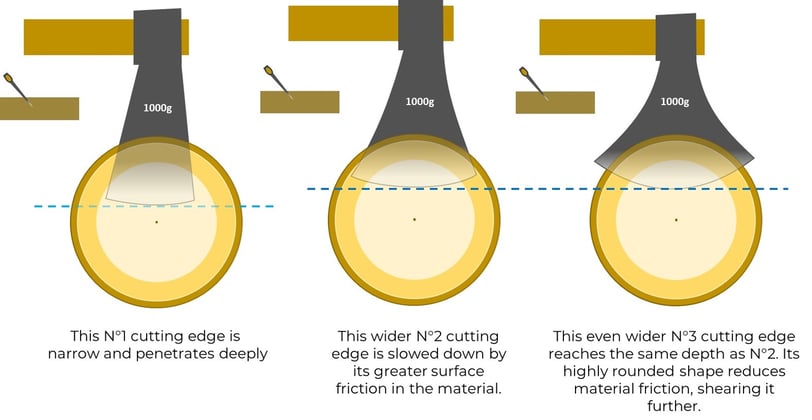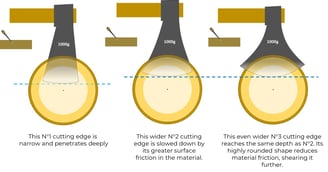 The more or less rounded shape of the cutting edge
The more pronounced the curve, the greater the shearing effect on the fibers. In hewing, a very rounded edge will form "cupules" (in french), slight hollows that are very aesthetically pleasing. A rounded cutting edge increases the penetration capacity of a wide cutting edge. A totally straight edge will have better penetration in small sections, particularly when cutting on the ground, as the straight surface that impacts the wood is less likely to roll it. A totally straight cutting edge is also ideal for pruning, as it enables cuts of uniform depth. By the same reasoning, a rather straight cutting edge makes it easier to cut notches in a hewn timber, as it more easily respects the line of the chalk line.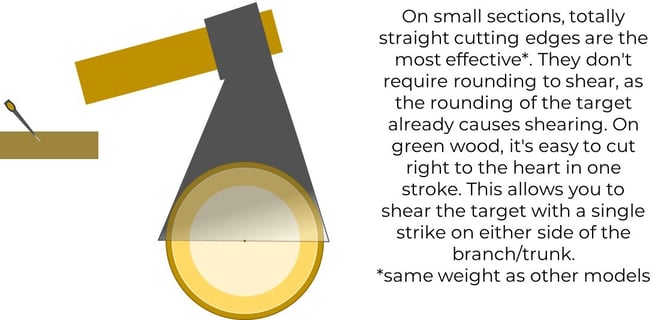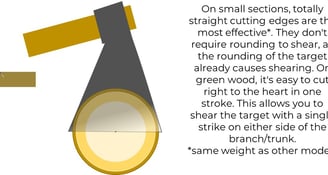 The angle of the cutting edge in relation to the handle
A "classic" cutting edge, rather parallel to the handle (most axes), is preferred for felling trees in the forest, as it is safer because it allows you to stand clear of the trunk. It's also more comfortable when limbing, and for finishing when hewing a beam. A rather "closed" cutting edge in relation to the handle is preferred when making notches in a workpiece lying on the ground (or slightly elevated, in the case of hewing), as the cutting edge arrives more plumb in relation to the workpiece. Some people also like it for cutting axe joints and carving. A closed cutting edge is favored for coppicing, trimming and pruning in general. In a coppice, it enables you to work closer to the tree (preferable in a dense environment, where the gesture may be hampered by the surrounding environment). The same principle applies to pollarding and pruning. A closed cutting edge is highly effective for specific tasks, but less versatile than a parallel cutting edge.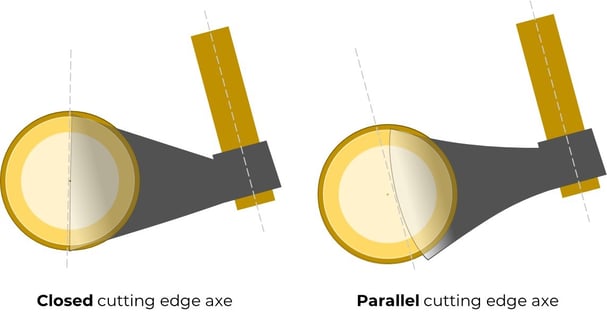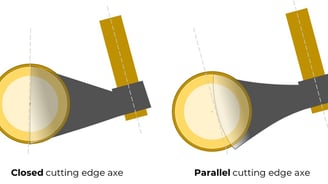 Blade thickness
A thin blade will have better penetration capacity than a thick one, especially in dry, hard wood. A thicker blade will have a better ability to spread the fibers, making it better for splitting and more comfortable in some cases: for example, when cutting green wood on the ground, a stocky axe will require less energy to remove from its notch.

In comparison, a thin axe may in some cases appear to be "stuck" in its notch, particularly when it's being cut on the ground and struck hard. When felling, this is less noticeable, since the energy invested in removing the axe from its notch is not spent in moving the trunk, which remains firmly anchored. This is also true when cutting a large piece of wood on the ground, which has a high degree of inertia, or when hewing a piece of wood secured by log dogs.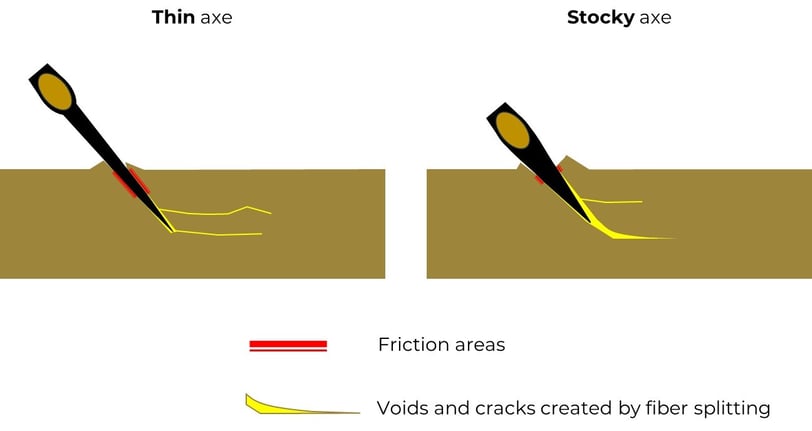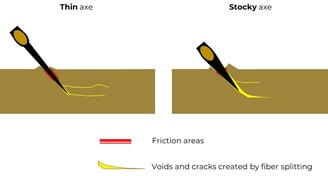 Toe height
An axe with a high toe provides a more flared cutting edge, which is very comfortable when felling and limbing, as it prevents the toe from digging into the notch, and the same applies to hewing notches. On the other hand, it is cumbersome when cutting on the ground, where it is likely to wear out prematurely unless the user makes an effort to adapt. A straight nose is a little more versatile for this reason, while a raised nose is even more so, provided you work hard on its precision. Some axes are called "humped" because their toe is low, making them ideal for ground-level work, whether for cutting or for finishing off stumps in a coppice.

The right axe weight
This variable takes precedence over all others. Important note: you can do anything with an axe, heavy or light. The key is to match the weight to your physique. A light axe (900g or less) will be appreciated for small-scale forestry work, pruning and pollards maintenance, but also by beginners with modest physiques for all other jobs.
A medium axe (1000g-1300g) will be appreciated by beginners for all types of work. A heavy axe (1500g and over) will be appreciated by experienced users who have acquired a sense of economy of effort and precision of gesture.
Finally, for the same weight, a Latin axe will always be larger than an American axe with a poll. Similarly, a bearded axe will always be lighter than a beardless axe with the same eye-to-toe length and width of cutting edge.
There's an 8th variable, less logical than the others, but just as important: attraction to the aesthetics of an axe. If your heart falls between 2 models, choose the one you like best. A tool you want to work with because you find it beautiful is a tool you'll take more care to sharpen, handle and use.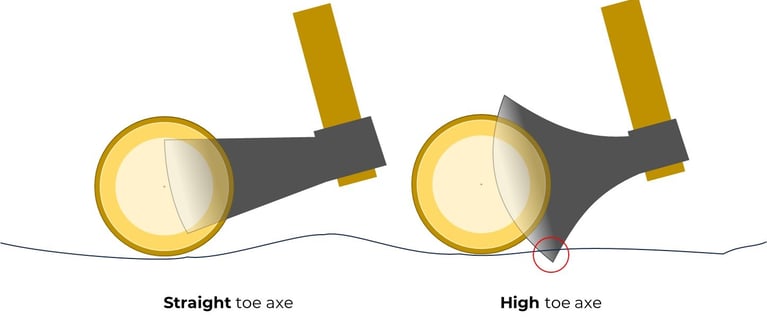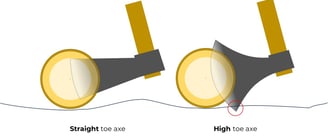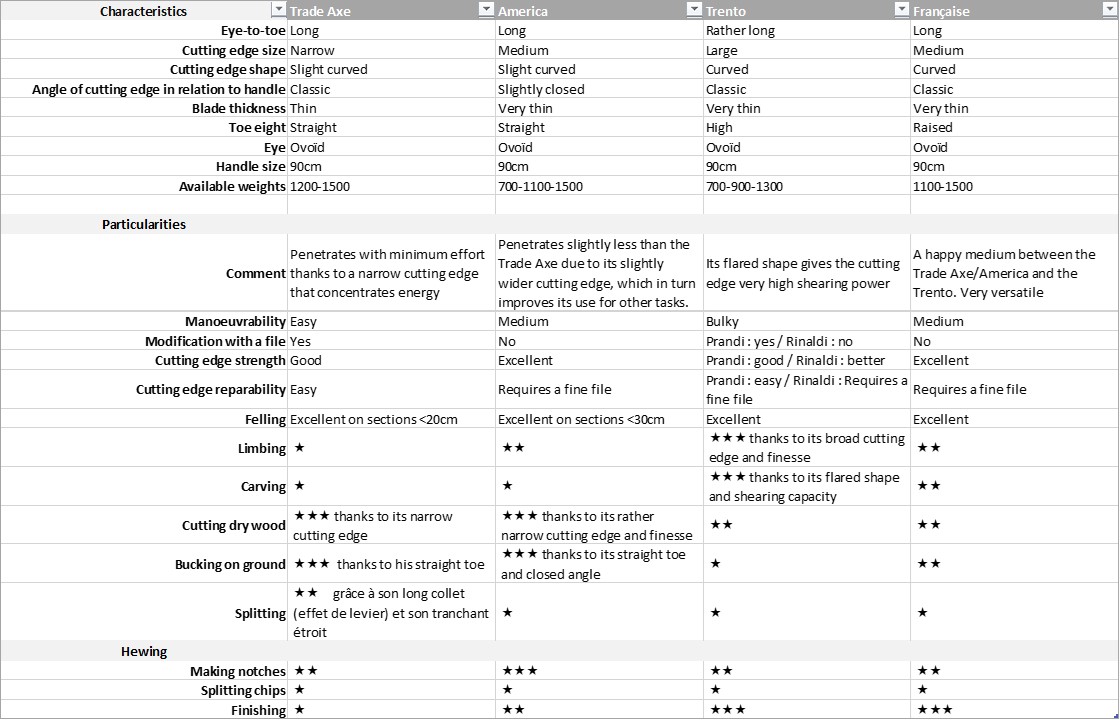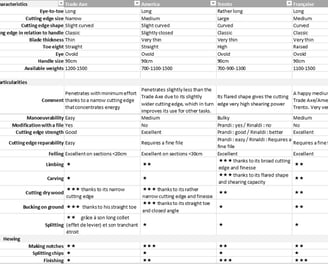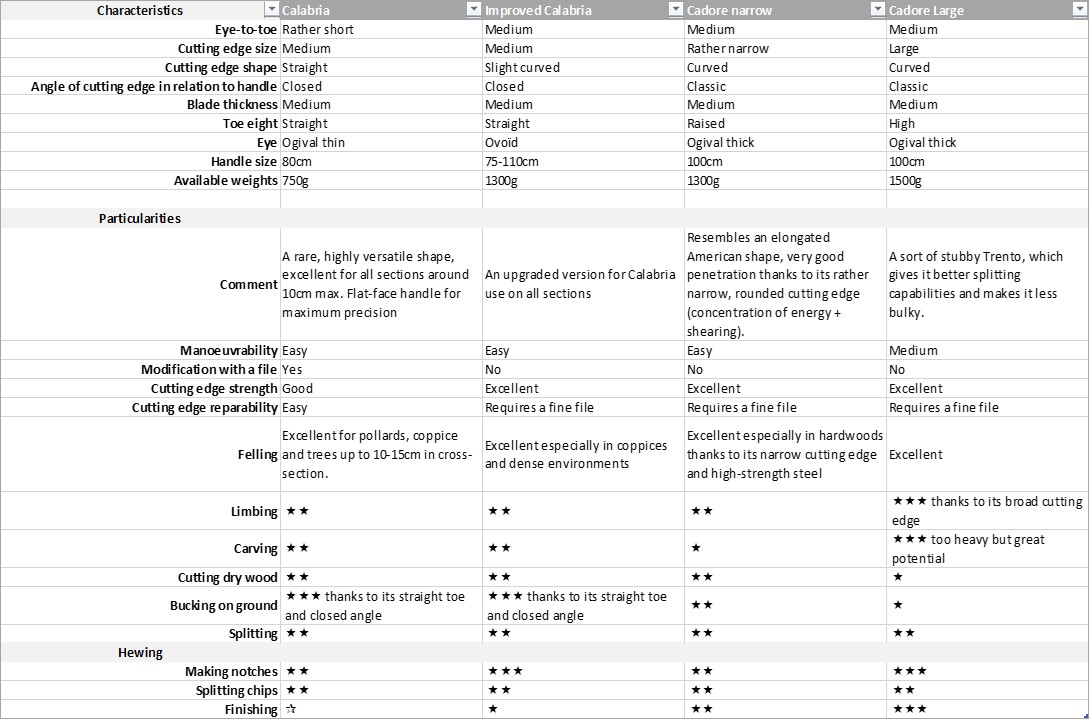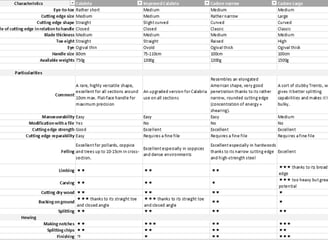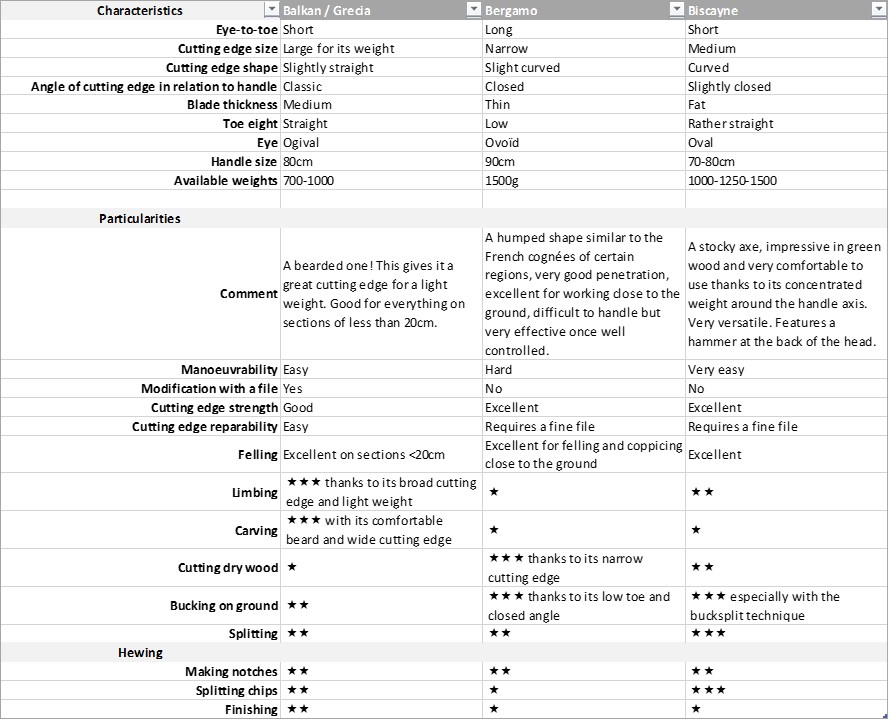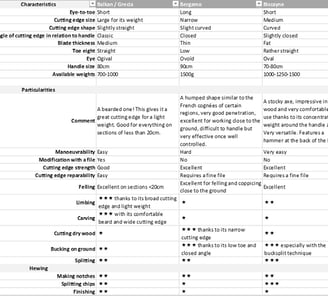 To sum up what you've learned, here's a comparative table of the main axes in the store. Please note that the stars in the table correspond to the natural talent that a given type of axe may have. If we take the example of an axe with only one star in a category - the Trento pattern and ground cutting - this doesn't mean it's bad for the job, but it won't necessarily be practical and will require adaptation on the part of the person using it to carry out the task effectively. I personally use a Trade Axe pattern compulsively, and over time I've developed a relationship with this type of axe that enables me to be very efficient with it even when limbing, because it has taught me to be more precise.
The Trade Axe pattern by Prandi
Long eye-to-toe, narrow, rather straight cutting edge, thin, elongated wedge-shaped blade, straight toe, 1200 or 1500g. Narrow cutting edge and rather thin blade: we're dealing with an axe with very good penetration capacity that will make the user work on precision. Its straight nose makes it a highly appreciated axe for ground work. Forged in C45 steel, easy to file and repair. Read the full data sheet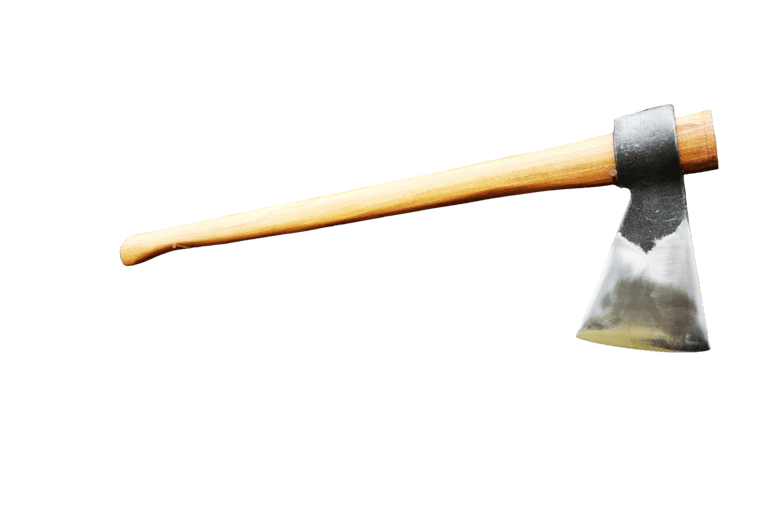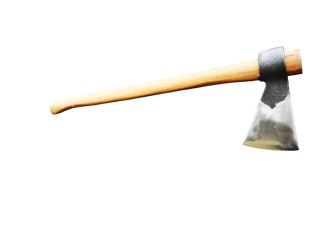 The Trade Axe pattern by Rinaldi the "America"
Thinner than the Prandi Trade Axe and with a slightly wider, rounded cutting edge, available in 1100 and 1500g. Forged from superior Rinaldi steel, very good edge retention (less frequent sharpening), difficult to file - prefer fine sharpening flat files with good bite. Read the full data sheet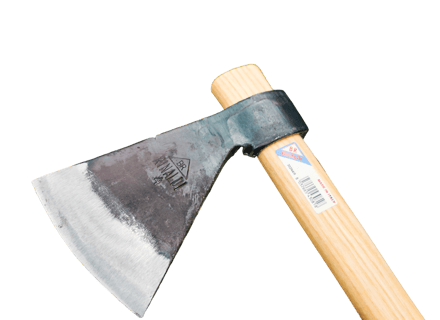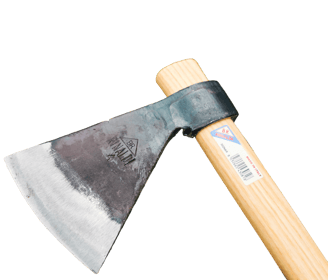 The Trento pattern by Rinaldi or Prandi
Long eye-to-toe, flared shape, wide, very rounded cutting edge, thin, elongated wedge-shaped blade, high toe, 700, 900, 1300 or 1500g. Although its cutting edge is very wide, it has excellent penetration capacity thanks to its finesse and rounded shape, which shears the fibers. The shape of its nose and heel make it an excellent carving hatchet in 700 and 900g. An excellent feller and limber, it is however less good for splitting and working on the ground. A shape also appreciated for hewing. Read the full data sheet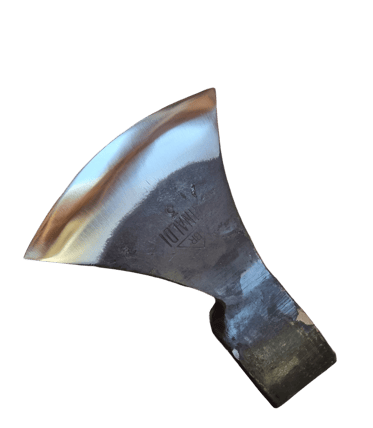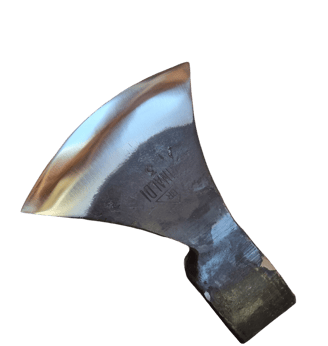 The French pattern by Rinaldi
Long eye-to-toe, cutting edge neither narrow nor wide (for a latin axe), rather rounded, very thin blade in the shape of an elongated wedge, raised toe, 1100 or 1500g. In-between the Trade Axe and the Trento, this is a very versatile blade, but beware of its nose when working on the ground. Read the full data sheet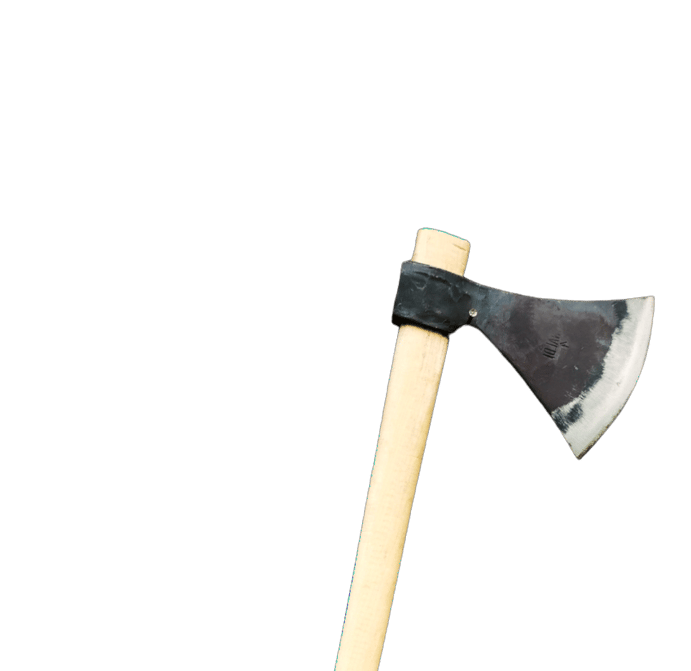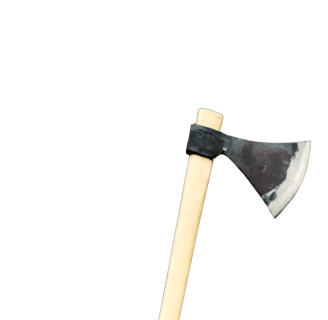 The Cadore Narrow pattern
by Rinaldi
Mid-long eye-to-toe, rather narrow and rounded cutting edge, thicker than other Rinaldi. Raised toe, 1300g. Very good penetration and splitting ability, it resembles a longer U.S. axe without the poll. The thick eye offers great freedom in the shape of the handle if you decide to do it yourself. Read the full data sheet
The Cadore Large pattern
by Rinaldi
Medium-length eye-to-toe, flared shape, wide, very rounded cutting edge, elongated wedge-shaped blade. High nose, 1500g. This shape is a kind of stocky Trento, with good splitting capabilities and excellent penetration thanks to the shearing effect of its very pronounced rounding. Excellent for heavy felling and limbing. Highly appreciated by carpenters for its versatility, it can be used for notching, splitting chips and finishing. Gives a very characteristic surface finish in the form of hollows, sometimes called "cupules" in French. Read the full data sheet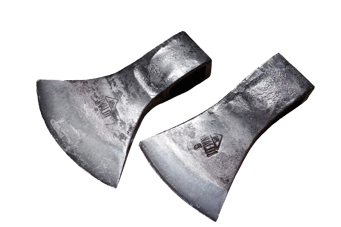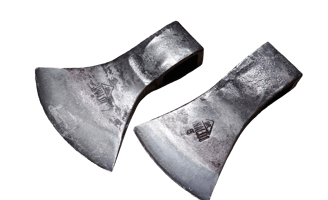 The Calabria pattern
Rather short eye-to-toe for a Latin, cutting edge neither wide nor narrow, straight, wedge-shaped blade rather thick for its weight. Straight nose, closed angle, 250 or 750g. In 250g, a nice first small axe for children accompanied by adults, but also a very good light axe for making matches for the fire or precision carving. In 750g, it's a fearsomely efficient shape for its weight, ideal for coppicing hazel trees, working on pollards or coppices with stems less than 15cm in diameter. Its straight cutting edge and flat-face handle also make it an excellent pruning axe (the flat-face handle may come as a surprise, but it's devilishly effective at increasing striking precision). Another special feature: its closed-angle cutting edge and straight nose make it just as good for working on the ground as at height, with the cutting edge more easily striking plumb into the notch. Read the full data sheet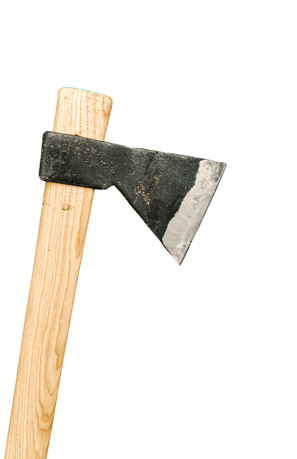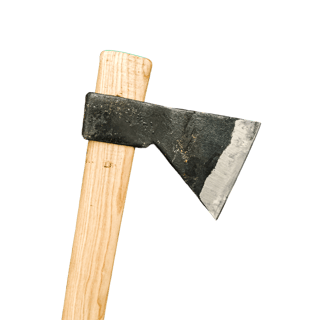 The improved Calabria pattern
Rather short eye-to-toe for a Latin, cutting edge neither wide nor narrow, slightly rounded, wedge-shaped blade rather thick for its weight. Straight toe, closed angle, 1300g. This model is a custom-made order from the store to obtain an axe with all the qualities of the Calabria type of axe, but with an ideal weight for all kinds of tasks, a more rounded cutting edge for tackling larger sections, and an eye modified to accommodate more rounded handles than the traditional thin, flat-faced handle of the Calabria model. Read the full data sheet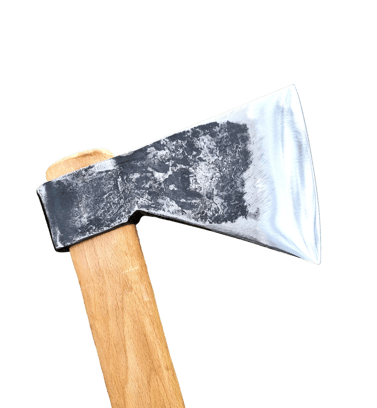 The Bergamo pattern
Long eye-to-toe, narrow rather rounded cutting edge, thin blade in the shape of an elongated wedge, downward-pointing toe, 1500g, closed angle. A rare model resurrected thanks to the confidence of Enrico Rinaldi, ideal for ground-level work when felling and bucking. Redoubtable in a coppice, particularly for finishing off stumps, the angle of its cutting edge enables you to cut close to the ground without breaking your back. Read the full data sheet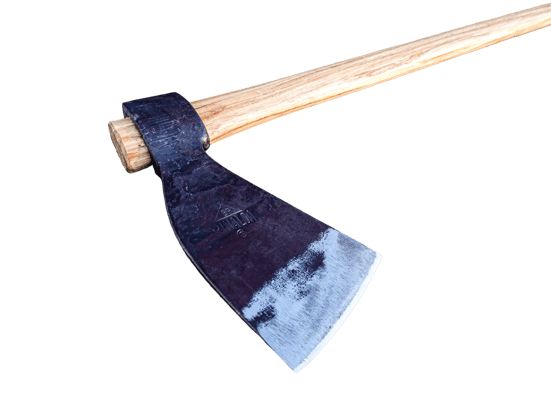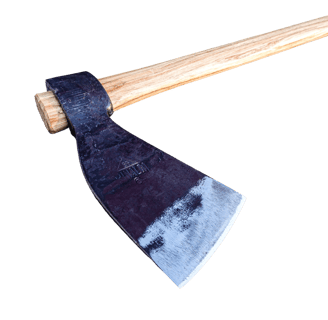 The Prandi Balkan pattern
Short eye-to-toe, wide, rather straight cutting edge, wedge-shaped blade rather thick for its weight, rather straight toe, 700 or 1000g. A hard-to-get, bearded model with the advantage of a large cutting edge for a light weight. An excellent little all-purpose axe, very handy and versatile. Read the full data sheet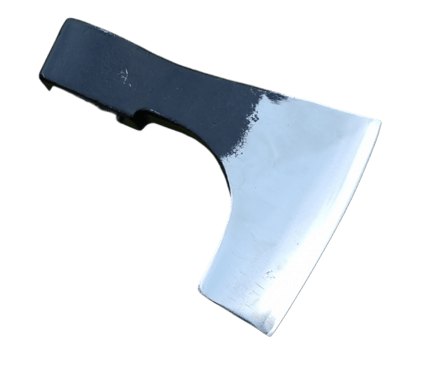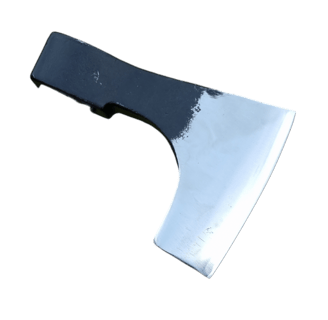 The Biscayne pattern
Short eye-to-toe, rather rounded cutting edge, stubby convex blade, straight nose, 1000-1500g. Impressive in green wood, excellent splitting capabilities and very easy to swing thanks to its weight concentrated around the axis of the handle. Read the full data sheet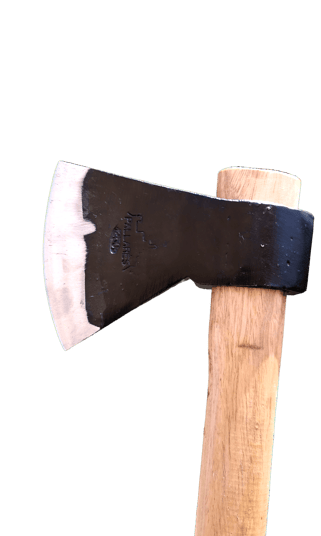 A point about sharpening: the ranking of axes in the table is based on their effectiveness after being upgraded, not with their factory sharpening. I recommend that you choose the sharpening upgrades from the store, or do it yourself with a file if the axe's steel allows it (see table). You can watch my video tutorial to understand how to do it yourself: https://www.youtube.com/watch?v=THAct0yb5fE

The store's "superior quality" sharpening option is based on the same principle, but is carried out with machines capable of working any steel and achieving a more aesthetic finish. On the other hand, the result in terms of performance is not better but equal to file work.
The store also offers a "special quality" option on certain axes, where the modifications of superior quality are applied with the addition of the creation of phantom bevels.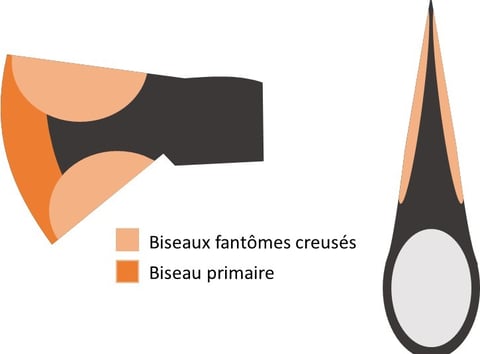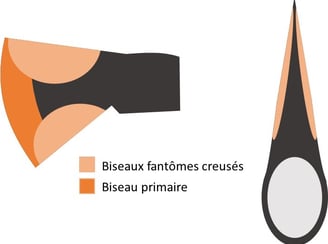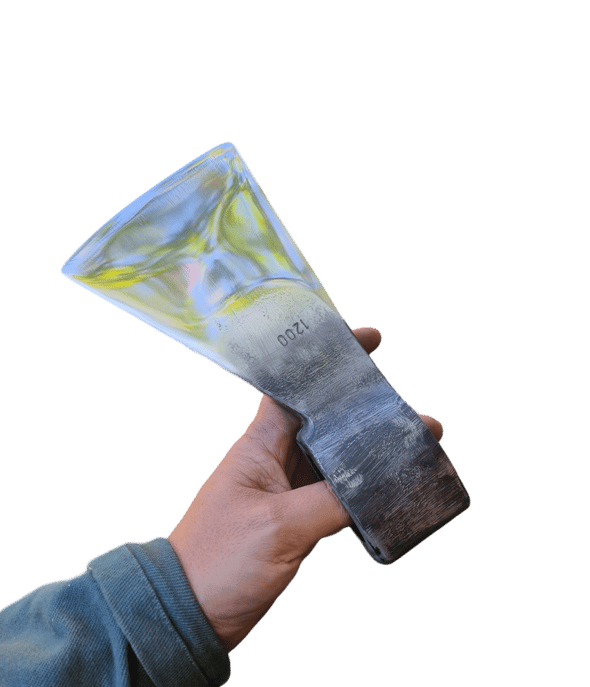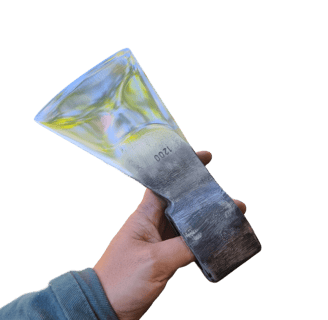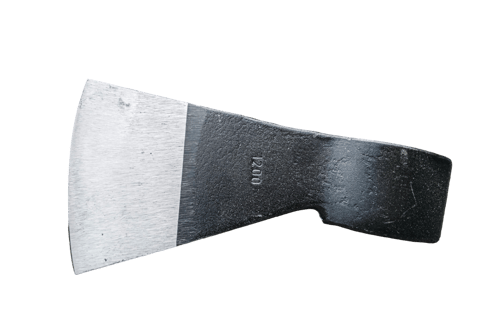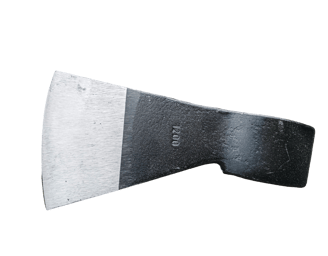 Trade Axe special quality, with forced patina
Trade Axe out of factory quality
These phantom bevels progressively remove material from the sides of the blade, concentrating thickness in the center. This modification is found on competition axes and was originally designed on old American axes. On thicker axes like the Biscayne, this increases its penetration capacity, while on thinner axes like the Trade Axe, it reduces its friction and tendency to stick when struck deeply.
We hope this article has helped you make your choice, or simply learn something, so please don't hesitate to write to us if you have any questions and help us improve this article.
No AI was involved in the creation of this text ;)
Thibaud Morthelier